MEDALS
Click on award for
recto/verso or use Flash

Counter number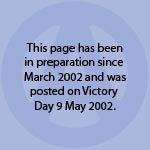 | | |
| --- | --- |
| For Valiant Labour | |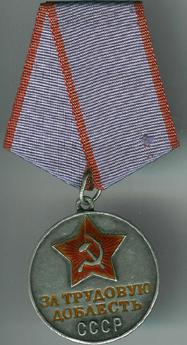 Established 27 December 1938 (also known as "Medal for Labor Heroism"), made of silver, 2.300.000 issued and ranks above the "Medal for Distinguished Labor". This is the first type, variation 2 but on the wrong suspension (it should be triangular). It is quite rare with a known number range from 17487 to 33879. It should have had a thicker (4mm) fastening screw with the words Monetnij Dvor on it. There is also no line under the letters "No" preceding the number.
It was probably placed on the five sided suspension by its owner after the rules changed in 1943.
I have a spare copy, but also on the wrong five sided suspension (no. 29496).
| | |
| --- | --- |
| A | Abundant, readily available, often in wholesale quantities. |
| C | Common, always available. Occasionally in quantity. |
| R1 | Usually available without a long delay. Difficult to find in quantity. |
| R2 | Scarce to rare, less seldom available. |
| R3 | Rare. Difficult to find. |
| R4 | Very rare. Demand outstrips supply, and specimens, when available are often eagerly sought. |
| R5 | Extremely rare and seldom available. Collector may have to search for a few years to locate one. |
| R6 | Of the highest rarity. Very difficult to obtain. |
| R7 | Almost never available. Most collectors will not have a chance to acquire these pieces. |
| R8 | Never been on the market. Almost impossible to obtain. |
| R* | Not available for collections. |