MEDALS
Click on award for
recto/verso or use Flash

Counter number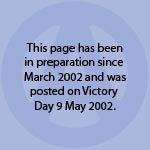 | | |
| --- | --- |
| For Distinguished Service in the Preservation of Public Order (15 ribbons) | |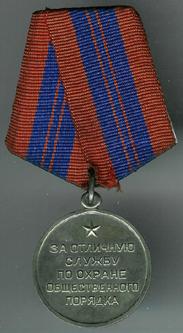 Instituted on 1.11.1950 and some 47.000 were issued. Undocumented, otherwise in excellent condition in copper-nickel alloy with 15 ribbons on reverse depicting Soviet coat of arms (7 left, 7 right, one below). Released after 1957 when the Finno-Karelian Republic was down-graded to an autonomous region.
Variations 1 and 2 were made of silver (21.6g), and variation 3 is silver plated (neusilber 16.1g). This is variation 4 made from a copper-nickel alloy (17.3g). I have a spare copy.
See also 16 ribbons version.
| | |
| --- | --- |
| A | Abundant, readily available, often in wholesale quantities. |
| C | Common, always available. Occasionally in quantity. |
| R1 | Usually available without a long delay. Difficult to find in quantity. |
| R2 | Scarce to rare, less seldom available. |
| R3 | Rare. Difficult to find. |
| R4 | Very rare. Demand outstrips supply, and specimens, when available are often eagerly sought. |
| R5 | Extremely rare and seldom available. Collector may have to search for a few years to locate one. |
| R6 | Of the highest rarity. Very difficult to obtain. |
| R7 | Almost never available. Most collectors will not have a chance to acquire these pieces. |
| R8 | Never been on the market. Almost impossible to obtain. |
| R* | Not available for collections. |